Jul 27.2023
Glodon Magazine: g insight - July. 2023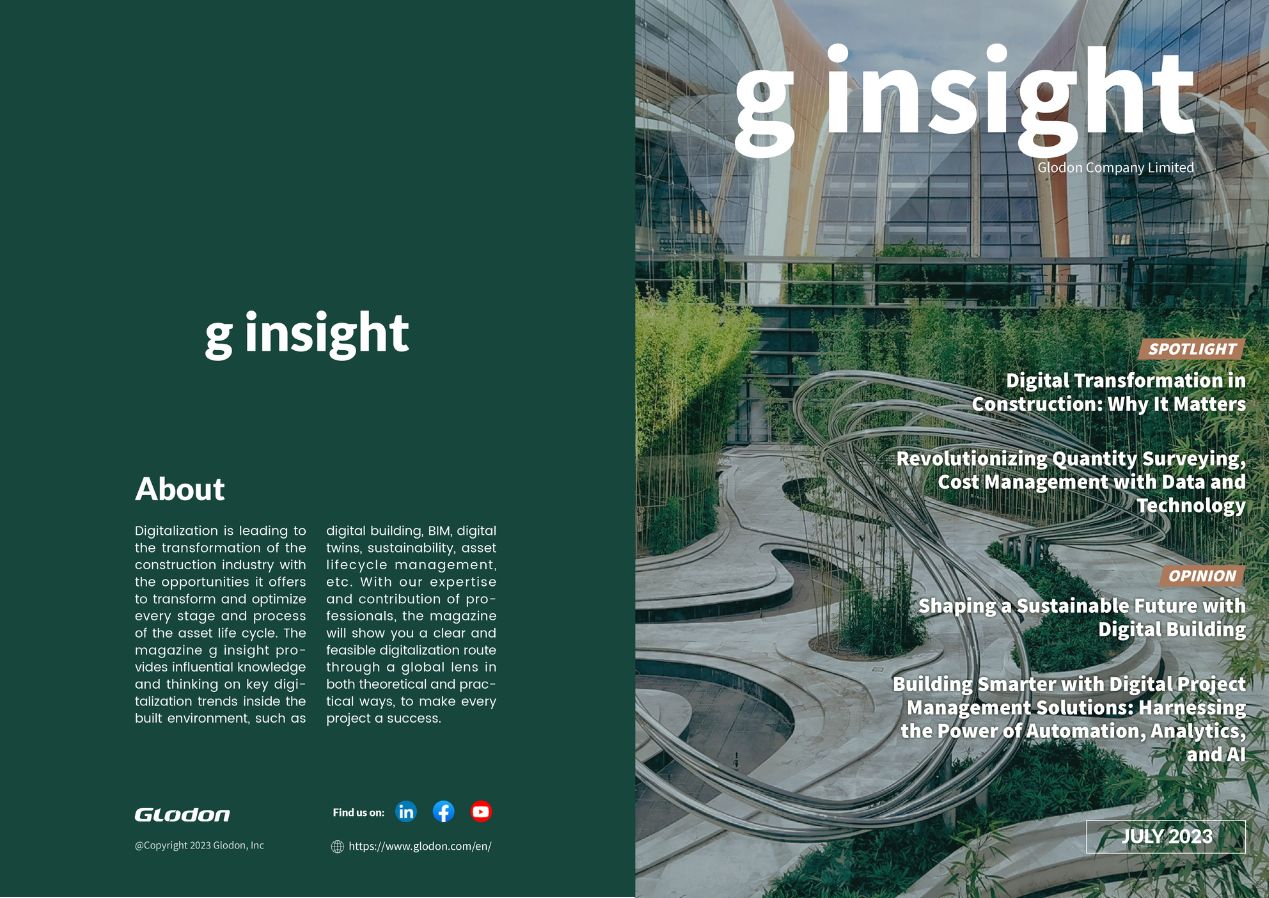 From Blueprint to Bright Future: Embracing Digitalization for Sustainable Buildings
The construction industry continues to face unprecedented changes. As businesses navigate the complex market landscape, they must contend with the uneven growth in residential and non-residential segments. However, amidst these challenges, digitalization presents an opportunity to drive sustainable practices and ensure long-term success. The importance of digitalization extends throughout the building lifecycle, enabling us to reimagine how we design, construct, and manage buildings.
Building information modelling (BIM) allows architects and engineers to create intelligent 3D models incorporating detailed data on materials, systems and properties in the design phase. Designers can visualize and simulate building performance early on, optimizing for factors like daylighting, energy loads and code compliance. Parametric modelling enables rapid iteration by automatically updating models as parameters change. Virtual reality and augmented reality allow stakeholders to immerse themselves in virtual walkthroughs of building designs.
BIM and AI techniques like machine learning provide more automated and data-driven approaches for cost estimation. BIM models contain rich information on materials and assemblies, while AI can analyze historical data to identify cost patterns and predict totals more accurately. Machine learning algorithms can also classify and quantify aspects like labour, materials, and equipment from 3D BIM models.
During construction, technologies like Lidar scanning and photogrammetry capture as-built conditions to track progress versus BIM models. Drone technology enables aerial surveillance of sites to identify bottlenecks. Telematics and IoT sensors on equipment and materials provide real-time data on status. Field teams leverage mobile apps, photos, videos and VR to communicate progress on-site. Machine learning techniques can automate progress monitoring by comparing 3D as-built data to schedule milestones.
To fully embrace the potential of digitalization, professionals must embrace change and actively foster innovation. This requires a mindset shift towards adopting new technologies and exploring their applications in the industry. It also calls for collaboration among stakeholders, including architects, engineers, contractors, and technology providers. By working together, sharing knowledge and expertise, and promoting a culture of collaboration, the industry can unlock the full potential of digitalization and create buildings that meet the needs of the present and ensure a brighter future for future generations.
Main Contents
Voice
Driving Integrated Construction with Digital Design
Spotlight
Revolutionizing Quantity Surveying, Cost Management with Data and Technology
Opinion
Building Smarter with Digital Project Management Solutions: Harnessing the Power of Automation, Analytics, and AI