Jan 04.2023
Glodon Magazine: g insight - Jan. 2023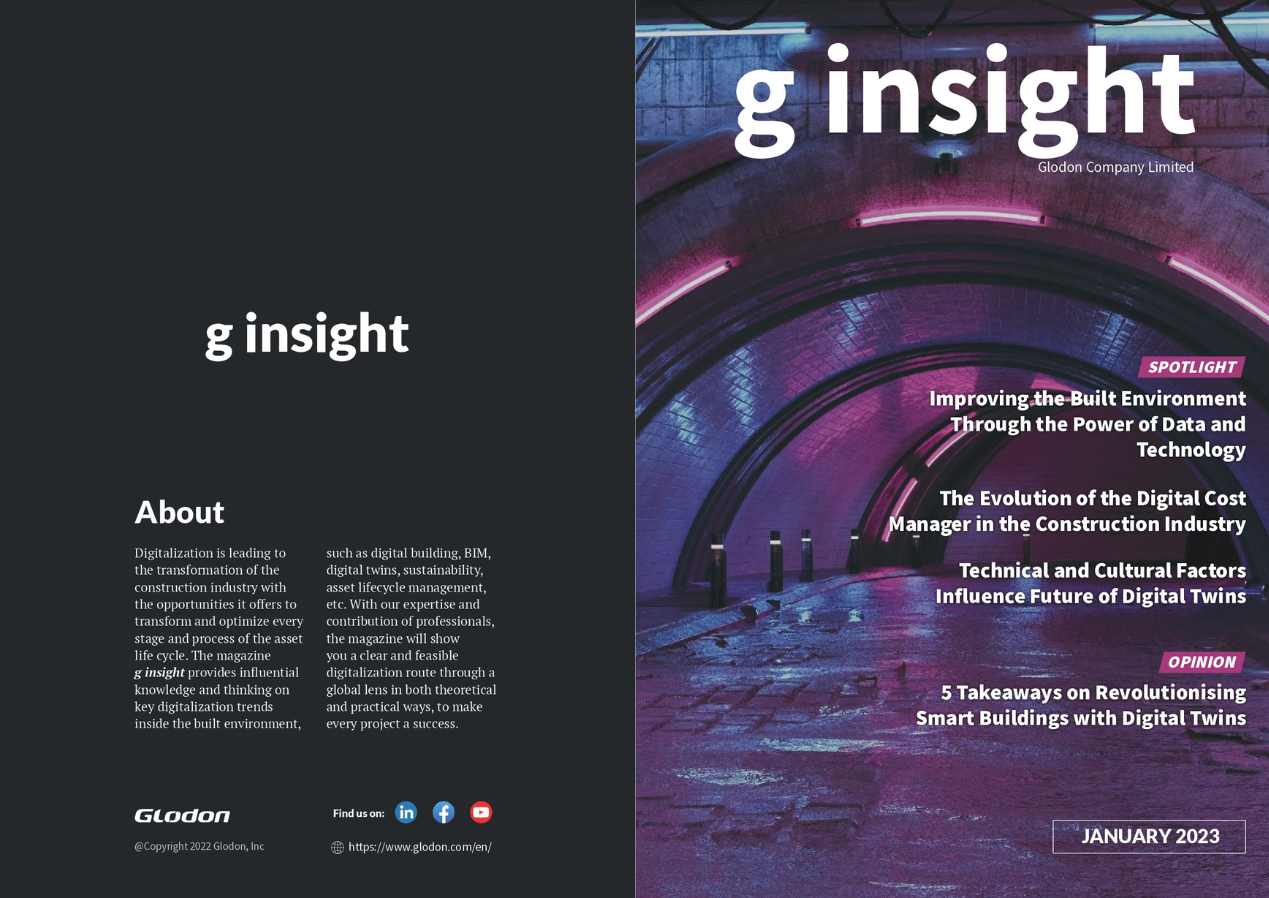 Digitalisation in the Construction Industry and New Roles of Quantity Surveying Profession  
The pace of digitalisation across the built environments continues to gather momentum with significant opportunities for more efficient processes, business models, and industry connections.
Industry experts argue there is a need to exploit the power of data to improve work efficiency and certainty. Real-time, accurate and structured data is the basis for establishing a reliable connection with clear responsibilities. With data and relevant technology, it is possible to create a digital twin spanning disciplines and life cycle phases for assets, giving situational awareness of what is happening and facilitating data-based decision-making. It is also important to think about a system or platform approach to creating a more comprehensive connection rather than fix eyes on short-term, case-based, one-off applications for solving different problems.
Quantity surveyors, as the principal custodian of project data, will remain central to all predetermined project outcomes and become the foundation of any asset owners' digital journey. It is time for Digital Cost Managers to position themselves and reconsider their value proposition. A focus on upskilling is an enabler, and cooperation with academia can help bring in more digital talents. Leaders in the sector must look to the future and consider how the workforce of tomorrow can drive the changes.
Main Contents
Voice
Thoughts on Digitalisation Trends of the AEC Industry
Intelligence
Quantity Surveyors Facing Competitive and Tough Market, Demanding More Experienced Talent Than Ever
Spotlight
Improving the Built Environment Through the Power of Data and Technology
Opinion
5 Takeaways on Revolutionising Smart Buildings with Digital Twins