Aug 11.2023
The Secret Behind China's Best Managed Company: An Interview with Glodon President
This article is originally published by Harvard Business Review China. Edited and condensed for clarity.
In just 25 years, Glodon Company Limited (referred to as Glodon) has established itself as a leader in China's digital transformation of the construction industry. Internationally, Glodon ranks fourth among global enterprises in the field of informatization and digitalization in the construction industry, following closely behind Autodesk, Trimble, and Bentley Systems. Particularly, among these four companies, Glodon has the fastest growth and the best performance. As the latest addition to China's Best Managed Companies (BMC), what makes Glodon a global top-tier enterprise? Recently, we interviewed Glodon's Chairman and President, Robert Yuan, to explore the company's excellent management practices.
The Things That Set Glodon Apart
Due to its focus on digital transformation throughout the entire lifecycle of construction projects, Glodon is not a company widely known to the general public. In simple terms, Glodon is a high-tech enterprise specializing in the digitalization of the construction industry. Its clientele includes industry regulators, developers, designers, contractors, consultants, building material suppliers, city administrators, educational institutions (major construction-related universities and departments), and financial service providers. Glodon provides these entities with comprehensive digital building services, centered around construction engineering, with added value services like industrial big data and financial services.
According to Robert Yuan, Glodon differs from companies like Autodesk, Trimble, and Bentley Systems. The latter three started from the architectural design business and expanded downward to cover the construction industry's entire lifecycle, while Glodon started with the cost management business and entered from there. Despite distinct market entry points, Glodon's upward and downward extensions each possess their own strengths and strengths. Although Glodon's design software business started relatively late, the company has now launched design products with independent intellectual property rights and possesses its own platform and engine. This progress has propelled Glodon towards becoming one of the world's top construction technology enterprises.
The year 2023 is a year of recovery from the pandemic but also an exceedingly challenging one. The Managing Director of the International Monetary Fund (IMF) pointed out at the beginning of the year that over a third of the global economies would experience recession, and there is a 25% possibility that the global GDP growth in 2023 will be below 2%. In such a macroeconomic environment, many companies have experienced a significant decline in revenue and struggled to stay afloat. However, Glodon has continued its growth. For instance, in the first quarter of 2023, Glodon's revenue increased by 15.79% compared to the same period last year, and net profit grew by 10.10%. Looking at a more extended period, despite facing numerous challenges during the three years of the pandemic, Glodon has still maintained a profit growth rate of over 40%, which is not an easy feat. Robert summarized the main reasons for this success in the following four points.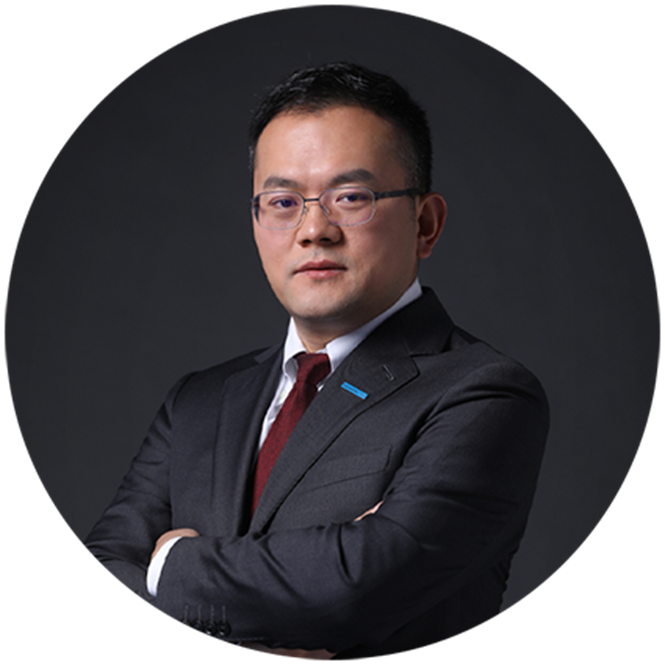 Glodon's Chairman and President, Robert Yuan
Four Core Driving Forces
A firm commitment to the mission : Different companies have different elements contributing to their success, and Robert considers determining the company's positioning, which is its mission, as the first key factor. The corporate mission represents the fundamental purpose and value of the company, serving as its soul and spiritual pillar. A company without a soul loses its reason and value to exist. He emphasized that Glodon's positioning and mission have always been clear – to leverage technology to create a better living and working environment.
"We are not confined to a specific segment of the construction industry but focus on the living and working environment, including building, infrastructure, as well as aspects environment such as carbon reduction." Another aspect of Glodon's positioning is technology-driven. Initially, the company was positioned as a software company, but it later discovered that a combination of "software + hardware + digitalization technology" is essential to provide the best services to the industry. Looking at Glodon's development over 20 years, it is precisely because Glodon's mission aligns with the industry's and society's development that the company has laid a successful foundation.
Guidance from strategy : In addition to the corporate mission, Glodon also places significant emphasis on the importance of strategy. The company has a clear and efficient strategic execution system, positioning itself as a "digital enabler." Glodon fully understands that digital platforms will become the new foundation of the construction industry, and the core strategies of green, industrial, and digital transformation are essential for the industry's transition and high-quality development.
Robert Yuan said that Glodon's strategy will adjust to changes in technology and the market. Before 2015, the company's strategic goal was to 'let the cost estimators put away their calculators' and increase the efficiency of cost-related work. By the end of 2016, the company formulated a nine-year strategic plan, and the strategic positioning for 2017-2025 is on digital building, which means digitalization in the construction industry. The most crucial aspect is to ensure the success of every construction project.
As of now, Glodon has been following the nine-year strategic plan, and the direction is correct, as the company has achieved continuous growth. The nine-year strategic plan is relatively long, and Glodon sets specific strategic goals every three years. The company reviews the past and looks ahead, making targeted adjustments based on the latest circumstances. Robert stated that in the final three years of the nine-year strategic plan period, the company has identified digital building as the most important direction. Glodon aims to establish an industry platform. Recently, the company launched the Glodon Business Platform, which was adjusted based on the industry's latest core issues.
The power of culture : Robert Yuan presented corporate culture as the third key factor, stating, "I believe that Glodon's culture has been continuously inherited and promoted from the start of our business to the present. The latest version of our culture consists of six core values - Customer Success, Win-Win, Integrity, One Glodon, Keep Learning and Day One. These six values inherit our entrepreneurial spirit and further deepen it. For example, the customer-centric culture has been continuously deepened."
Robert mentioned that Glodon's culture emphasizes entrepreneurship and innovation. The company draws inspiration from Amazon's "Day One," which is an essential cultural gene for Glodon. Because for an IT company, only through continuous innovation and transformation can it achieve long-term success.
Corporate culture may appear intangible, but its impact is enormous and enduring. He believes that corporate culture can shape the spirit of the entire team, strengthen overall capabilities, and attract talent. He particularly emphasizes that talent development and promotion at Glodon are all reflections of the company's culture.
Core technologies as a driving force : Glodon is a company that considers core technologies as its driving force and has been dedicated to developing its core technologies since its establishment. While many technologies in the construction industry may take a decade to yield results, Glodon persists in making significant investments. For instance, the most challenging aspect of construction digitalization is design software. In 2013, Glodon set its research and development goals on design software, formed dedicated design teams, acquired related technologies and teams, and finally released its own design software in 2022.
Robert mentioned that design is the most challenging profession in the construction industry because design must serve construction work. Many designers do not understand the specifics of construction sites or construction management, leading to information loss or inaccuracies in the communication process. Another challenging aspect is cost management. For construction companies, the profit margin is typically around 3%. If it falls below 3%, the company may face losses. Hence, cost management is crucial throughout the entire project lifecycle. Glodon initially started with cost management, which gave it a natural advantage. After developing its presence in this area, the company focused on advancing in design. Glodon's approach differs from other competitors, which considers design as a means to serve subsequent construction and achieve integrated cost management. Therefore, design is not merely for designers to produce drawings but also to enhance the overall project's performance. Generally, the design phase's impact determines 80% of the project's cost. In the past, it was challenging to accurately calculate costs during the design phase, resulting in the majority of projects exceeding their budgets, sometimes significantly. This is precisely why Glodon places great importance on the design phase and design software.
Moreover, design has a significant impact on construction, affecting the difficulty and duration of construction. Glodon can seamlessly connect design with cost and construction management. During the initial design phase, Glodon can clarify the costs and construction complexities, ensuring that the construction stage aligns with the design plan. Many other organizations find it challenging to achieve this level of integration.
Glodon also adheres to independent research and development and technological innovation, implementing a multi-pronged strategy of "independent R&D + ecosystem collaboration + investment and acquisition." With seven major global R&D centers, Glodon conducts in-depth research on critical core technologies in different businesses and fields, driving both product innovation and iterative upgrades. Through multidimensional development, the company enhances its innovation and R&D capabilities, acquires key core technologies with independent intellectual property rights, and maintains a leading advantage within the industry.
Glodon invests significantly in technology R&D. In the past three years, the company's R&D investment has accounted for approximately 30% of total revenue, a proportion that is high compared to similar companies and Glodon's past investment. R&D personnel constitute around 40% of Glodon's total workforce of over 10,000 employees, a relatively high percentage not only within the industry but also in the entire high-tech sector. Glodon recognizes that technology is rapidly advancing, with new technologies continuously emerging. The company's R&D efforts are not only sustained but also aimed at researching and exploring future technologies, including those that have the potential to revolutionize the industry.
Speaking of challenges, Robert believes that whether for a company or an individual, the greatest challenge lies in one's own perception. "I've observed that the biggest bottleneck for many companies is the CEO's cognitive ceiling, leading to various issues within the company," he stated. In his view, this is the paramount challenge. "Often, people are unaware of their own inertia, but sometimes, whether your thinking can expand, whether your mindset and perspective can broaden, greatly influences crucial decisions for many companies. Entrepreneurs themselves often remain oblivious to this. It requires a continuous feedback mechanism, external feedback, and self-reflection to stay consistently aware." He believes that only through constant learning, feedback, iteration, and refreshment within the currents of the times can true cognitive improvement be achieved. This ongoing process helps in adjusting one's mindset and perspective, facilitating high-level, rapid decision-making for the company, ultimately leading it from one victory to another.